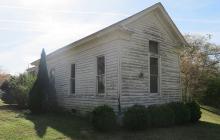 HAMILTON - The Hamilton City Council has respectfully declined an offer for a piece of Marion County history.
The council, citing the large costs involved, voted 0-6 against accepting a donation of the small, Fite Law Office, which sits nearby on the opposite side of 10th Avenue Southwest from Hamilton City Hall.
The Fite Law Office was the workplace of Earnest Baxter Fite, father of the late Rankin Fite, who later became a legendary speaker of the Alabama House of Representatives.