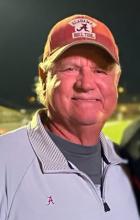 Michael David Tice, 72, passed away April 7, 2023, at Helen Keller Hospital. He was welcomed into Heaven by his parents, Gaston and Eula (Harper) Tice; sister, Sharon Tice Clark; first wife, Sandy (Rasberry) Tice; and granddaughter, Micah Marie Peoples.
Mike is survived by his wife of two years,
Teresa (Ivey) Tice; his daughters, Tonya Tice Peoples (Scotty) and Amanda Tice Thomas (Colton); and son, Chadwick Michael Tice (Sarah). He was most proud of being Papaw to his eight grandchildren: Abram and Luke Peoples; Tyce, Emma, Ella, and Mia Thomas; and Valyn and Levi Tice. He is also survived by his sister, Sandra Tice Seals (Dale).
Known to most as Coach Tice, he graduated from Hamilton High School in 1969, where he was a three-sport athlete and Allstate quarterback. He went on to sign a baseball scholarship with Northwest Community College, and then the University of South Alabama, where his greatest accomplishment as a pitcher was his junior year, where he went 8-1 over 75 innings and pitched with a 1.79 era. He planted his feet in coaching, beginning his legacy and calling in life. Coach Tice coached football at North Sand Mountain, Loretta, Haleyville, Phil Campbell, and Pell City and then moved back to Hamilton, coaching boys' and girls' basketball and softball at Northwest Community College. Once retired, you would find Coach Tice helping his daughter, Tonya, coach basketball. He was his grandkids' biggest fan, often being thrown out of their ball games. Coach Tice watched all things Alabama, fished, attended Faith Church, and traveled with his wife Teresa to watch his former athletes' children play ball, and, again, always fishing.
Services were held Monday, April 10, 2023, at the First Baptist Church in Hamilton with burial in the Shiloh Cemetery. Bro. Preston Headrick officiated.
The family would like to thank the nurses and staff at Helen Keller Hospital for the exceptional love and care he received. And thank you to each of you for all the outpouring of love and prayers. He lived his life big and loved with all his heart.
"And now these three remain: hope, faith, and love, but the greatest of these is love." 1 Corinthians 13:13
Memorial Funeral Home - Guin 7195 U.S. Highway 43 Guin, AL 35563 205-468-3323