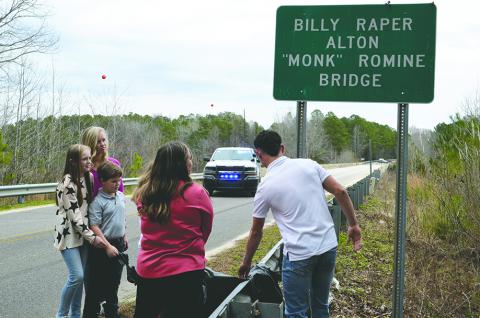 BEAR CREEK — Two Marion County Schools coaches/
teachers who left a legacy behind for future generations have been honored by renaming the bridge over Bear Creek on County Highway 79  in their honor.
The Coach Alton "Monk" Romine and Billy Raper Memorial Bridge was dedicated to the coaches during a ceremony on Feb. 21, attended by their family members, Bear Creek town officials and other supporters. Jason Hulsey, who helped organize the bridge dedication and ceremony, noted he has driven over that bridge, located in the area of Twin Forks Park, for years, realizing the bridge had never been named.
"I knew both of these men personally. I went to church with Coach Romine. He coached me the last years before he retired," Hulsey noted at the ceremony, which was held at the bridge while Bear Creek Police blocked traffic.