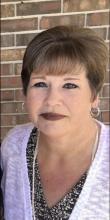 Kathy Nadine Lockhart, 62, of Winfield, formerly of Sulligent, passed away on Thursday, May 18, 2023, at her residence.  
Kathy was born on Dec. 4, 1960, in Winfield to the late James Douglas Fowler and Nell Franks Fowler. She was a dedicated employee for the City of Sulligent, working as a water clerk for over 14 years. Kathy also previously worked as a secretary for JFP Drilling Company in Houston, Texas. She loved her role as a Sunday School teacher at Shiloh Baptist Church where she was a longtime member. Kathy was a true joy to be around, always wearing a smile for anyone she met. She will truly be cherished and missed.  
She is survived by husband, Wayne Lockhart, Winfield; mother, Nell Fowler, Winfield; son, Cory Lockhart, Huntsville, Ala.; and daughter, Carly Lockhart, Sulligent.
She is preceded in death by father, James Douglas Fowler; brother, Kenny Fowler; and nephew, Ryan Fowler
Funeral services were held on Saturday, May 20, 2023 at the Otts Funeral Home Chapel. Bro. Jimmy May officiated.
Condolences and special memories may be shared with the family at: ottsfuneralhome.net. Otts Funeral Home of Sulligent directed.