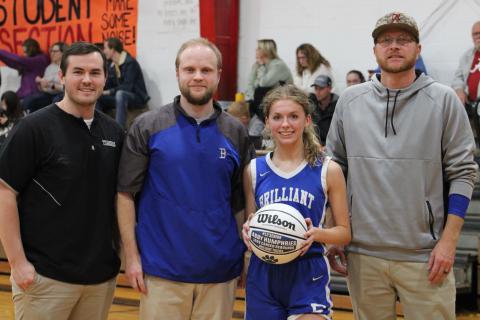 By P.J. Gossett
General manager
BRILLIANT — The Brilliant High School's varsity girls basketball team has a 20-8 record and two milestone achievements this season. Senior Abby Humphries is the most recent of these, when she achieved 1,000 career points at the game against Vina on Tuesday, Jan. 31. The other one was by Macy Moore, another 1,000 points achiever, in December.
The varsity girls were the runners-up in the North Alabama Conference tournament, while the junior varsity girls were the winners of the NAC tournament. The junior varsity won the Marion County tournament as well.
Head Coach Ryan Sanderson mentioned Humphries began varsity at seventh grade.
"I am very proud of Abby," Sanderson said. "Reaching 1,000 career points is very impressive because she has always been known for being a defensive player. Her game has evolved, and she is now a complete player. She has put in hard work and is very deserving of this milestone."
The team has totaled 1,492 points this season, against their opponents' 1,187.
"Brilliant varsity girls reached 20 wins this year," Sanderson said. "The Lady Tigers have not reached 20 wins since the 1982-83 season. This team has worked very hard this season and has improved every day."
Sanderson also mentioned four seniors will be graduating this year and will be missed, but the junior high team, with the NAC win,  has the future looking bright.
"We are excited to see what happens at the end of this season and are looking forward to the seasons to come."
Stats on recent games are as follows:
Jan. 30, Brilliant vs. Cherokee: Brilliant won 64-21; Humphries scored 21 points and had 5 steals; Moore scored 19 points with 7 steals; Tatum Barton got 12 points and 5 rebounds;
Jan. 31, Brilliant vs. Vina: Brilliant won 50-43; Moore had 21 points and 5 steals; Hadlee Sanderson ended with 11 points and 10 rebounds; Humphries totaled 8 points and 10 rebounds;
On Feb. 2, Brilliant vs. Sulligent: Sulligent won 66 to 46; Humphries had 14 points and 8 rebounds; Hadlee had 9 points and 9 rebounds.
Brilliant's wins this season were against Phillips (three games), Berry (two games), Vina (three games), Lynn (two games), Hubbertville (two games), Hackleburg (three games), Haleyville (two games), Marion County and Cherokee (two games). The loses were to Waterloo, Sulligent (three games), Marion County (two games), Lamar County and Hamilton.