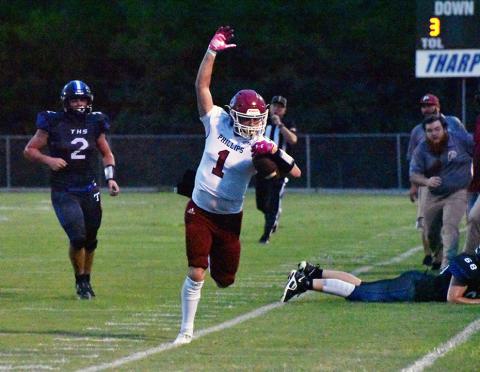 THARPTOWN — The Tharptown High School Wildcats trailed the Phillips Bears until the last quarter of the game Friday, Sept. 1. At the beginning of the fourth quarter, the Wildcats were behind one point, but the game ended in favor of the Wildcats 22-15.
Phillips kicked off and forced the Wildcats to punt, and when it came time for the Bears to possess, Hayden Dees took it in to a touchdown on a 38-yard drive. The PAT was good, making it 7-0, Phillips. The Wildcats wasted no time in answering the touchdown, with Jackson Clement on the carry, but their PAT was no good, keeping it just shy of a tie at 7-6, Phillips.
The Bears forced the Wildcats to the back of their own end zone, and it looked as if Phillips was about to score. However, they were forced to punt, but they did get a score out of a safety, making it 9-6, Phillips, and earning them the ball right back. The Wildcat defense put a strong effort into keeping the Bears away, but it was no use, as on fourth down, a complete pass to Brayden Ricketts earned their second touchdown on the night. This time, the PAT was no good, completing the 15 points for Phillips on the night.