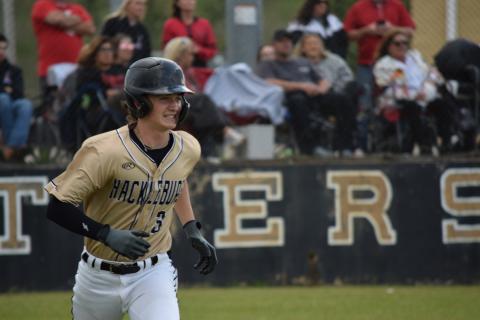 By Shelly Hess
Courtesy of the Northwest Alabamian
HACKLEBURG — It was a defensive struggle all the way, but the Hackleburg Panthers came out on top in the second round of the high school baseball playoffs, defeating the Lynn Bears in two games at home.
Lynn struck first in the first game of the doubleheader, with Cale Tittle doing the honors, putting the Bears up 1-0.  Hackleburg's Jaxon Fincher tied the game up in the second, then Ross Hudson doubled in the bottom of the fifth, bringing Seth Ables home.  A single to center field by Blaise Vickery brought Hudson in for the game winning run to make the final 3-1, Hackleburg.
Vickery pitched the entire game for Hackleburg, striking out 5 and giving up 6 hits for 1 run.  Tittle was on the mound for the Bears throughout the first game, striking out 5 and giving up 3 hits for 3 runs.
The second game of the doubleheader was even closer than the first.  The Panthers were first up to bat, and Hudson was the first to cross home plate, making it 1-0.
In the bottom of the first inning, with bases loaded, Panther pitcher Chandler Benford walked Lynn's Laythen Uptain, allowing Cole Kelly to score and tie the game.  Tittle scored next to give Lynn a 2-1 lead.
Aydan Beard made it home for the Panthers in the second inning to knot the score at 2, which is how it stayed until the eighth inning, when Benford scored to give Hackleburg the 3-2 win and advance the Panthers to the third round.
Benford struck out 2 and allowed 4 hits but no runs in the game. Fincher pitched at the very beginning of the game, allowing 1 hit and 2 runs.
Austin Dodd was the main pitcher for Lynn in the second game.  He struck out 7 and gave up 3 hits for 2 runs.  Tittle came in and struck out 1 and gave up 1 hit for 1 run.
Lynn finished their season with a 22-6 record. They are losing  Crimson Adamson, Jackson Baker, Walker Davis and Cole Kelly to graduation.
With the win, Hackleburg advances to the third round of the baseball playoffs and will take on Coosa Christian of Gadsden. Coosa Christian defeated Victory Christian of Pell City in a 2-1 series to make it to the third round. Hackleburg will host the third round series, which will begin Thursday, May 4, at 4:30 p.m.
Game stats courtesy of GameChanger.